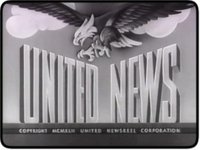 Faculty, staff, and students--check out this cool resource!
The Alexander Street Press has created a video database of "historical events, and the presentation of historical events over time, through commercial and governmental newsreels, archival footage, public affairs footage, and important documentaries." Included with the videos are transcripts and chapter/clip headings. Search or browse for your favorite person, place, historical era, or historical event. Some of the unique resources included in this database:
Newsreels from WWII.
History Channel documentaries.
A&E Biographies.
We have a free trial until the end of April so grab some popcorn, stream the video online, and check it out!